Erin Moran was famous for her role as Joanie on the hit series "Happy Days." The actress had a successful career as a child actor.
She grew up in North Hollywood, California, and was raised by her mother, Sharon, and father, Edward, who worked as a debt collector.
Moran got into acting after a friend of her mother's encouraged her to introduce her daughter to a mutual friend and a children's agent. The actress and her mother met up with Mary Grady, and she booked Moran her first commercial at five years old.
From there, Moran started landing many more TV roles until she got her breakthrough portraying Richie Cunningham's sister, Joanie, in "Happy Days."
Moran became one of the biggest stars of "Happy Days," which earned her her own spin-off, "Joanie Loves Chachi," for two seasons.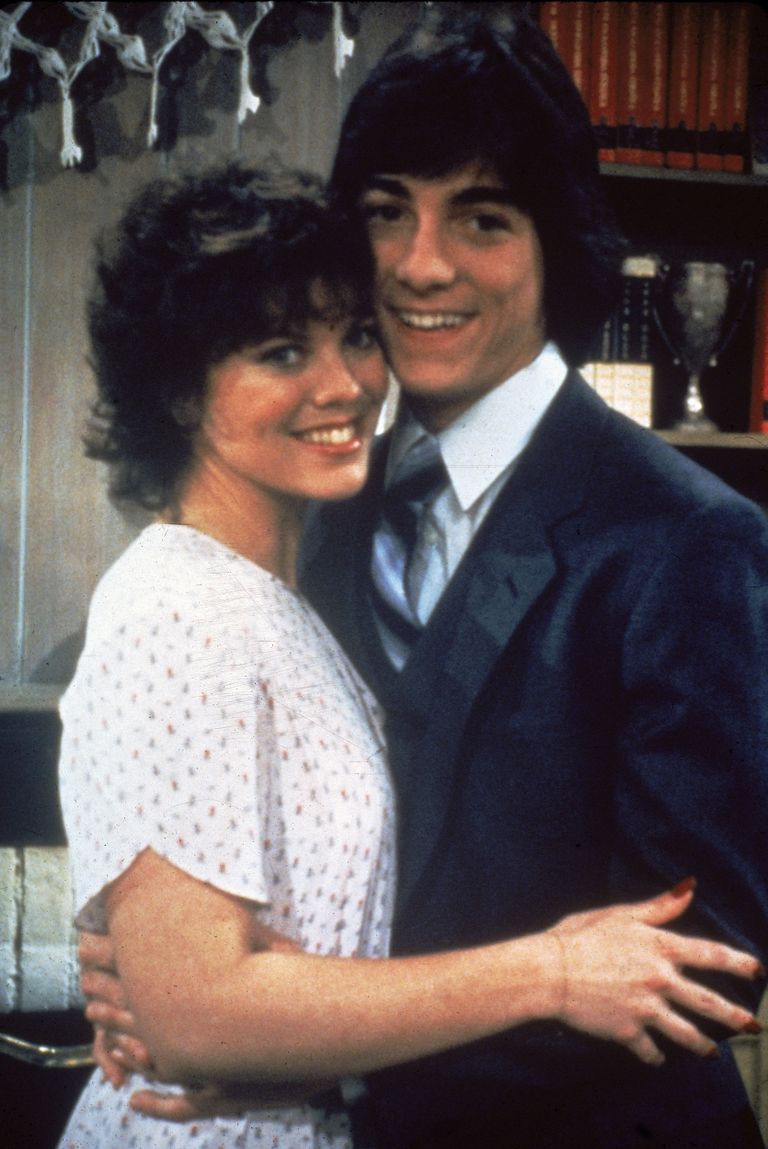 Despite her flourishing career then, the actress did not have an easy upbringing. After her father died, her mother became aggressive and drank a lot. Sharon reportedly overdosed on prescription painkillers and passed away in 2010 after struggling to raise her kids.
With the absence of familial ties at home, according to one of Moran's siblings, Tony, the actress drew happiness from her castmates in "Happy Days" who became family to her and gave her the stability she lacked at home.
Life was on a good track for Moran. She bought houses, cars, and clothes and maintained the lifestyle she wanted. But after "Happy Days" ended, Moran became more scarce on the screen, though she kept in contact with her castmates.

During an interview, the actress said she and her cast members were still as close as ever and checked on each other regularly. Moran loved how much the "Happy Days" crew had continued their close-knit relationship even off-screen.
When asked about her stalled career, Moran, who also appeared on the "Ronnie O'Donnell Show" and "Celebrity Fit Club" clarified that it was not by choice she was not getting more parts because she would have loved to be cast for a mini-series or a few films.
She was also asked about her love life, and Moran said she was married to a wonderful man who was not in the industry.
The actress was first married to Rocky Ferguson, but the two did not work out. Moran claimed Ferguson tried to make her invisible and forced her to lie about her identity whenever she ran into fans.
She divorced Ferguson in 1993, and in the same year, she married Steve Fleishmann, who was a Walmart employee.
One of Moran's close friends said Fleischmann was perfect for the actress and loved her deeply. The couple has been through a lot together and stayed strong until Moran's last days.
Losing Her Home and Life in Her Final Days
As Moran started getting fewer jobs, her money started running low, and she lost one of her biggest assets, her house. According to TMZ in 2010, Moran was behind on her mortgage, leading to the house being foreclosed.
Additionally, reports stated Moran refused to leave the house after being prodded several times until the L. A County Sherriff served her with her last eviction notice.
Moran's house was reportedly $315,000 in arrears. The home was eventually put on a public auction and sold for $291,000.
The actress and her husband moved into her mother-in-law's trailer home after. "They are helping take care of her, as any loving family would do," reiterated her representative.
In the meantime, Moran filed a lawsuit against CBS, fighting for her royalties. She and her other costars, Marion Ross and Anson Wiliams, were also part of the lawsuit.
The actors were contesting to get a cut from the "Happy Days" merchandise of card games, dolls, lunchboxes, and shirts that were advertised with their faces on them. As a result, Moran was reportedly paid $60,000 even though she had initially requested $2.5 million.
With Moran's career plummeting without consistent jobs coming in and the money she received from her lawsuit eventually thinning out, she slowly faded out of Hollywood.
According to her brother Tony, Moran struggled to book jobs because people were still stuck on her being Joanie, so it was difficult for the actress to transition into adult roles.
Tony continued to reveal that his sister loved to be famous, and the more her career declined, the more it took a toll on her emotionally.
Moran allegedly thought of herself as a failure, and when she did not get phone calls, she was crippled by the anxiety of losing the fame she had in her teens.
Eventually, the stress led to Moran suppressing her pain with alcohol. Her brother further said, "Erin was a tortured soul who never recovered after "Happy Days." Hollywood chewed her up and spat her out."
Unfortunately, Moran died in 2017. Her husband wrote a touching message on Facebook informing her fans about her passing.
Fleishmanm said his wife was battling with stage four cancer prior to her death. They had been planning to attend the Kentucky Derby Festival for their 24th wedding anniversary until one morning when he noticed a blood spot on her pillow.
Her husband took a look and realized that her tonsils were bleeding. Moran was then diagnosed with throat cancer. She underwent chemotherapy and radiation, but her health deteriorated fast.
Within no time, Moran could not speak and ate through a feeding tube six to eight times a day, explained Fleischmann. Then one day, Fleischmann went to the store to get her tissues. He returned, watched TV for a while, and took a nap holding his wife's hand.
When he woke up an hour later, Moran had died. It turned out her lungs had a lot of fluid, and her brain was damaged. Her condition was so severe that she would not have survived even if she had stayed in the hospital.
Fleischmann was grateful that he and his wife got to spend her last moments together. It was known to her friends that she had been struggling with alcohol, and her "Happy Days" co-stars confessed that they tried their best to help her, but she refused.
When her passing was announced, child star advocate Paul Peterson also expressed that most of her friends reached out to her in the last week of her life.
Peterson reiterated that they had exhausted all their resources to help Moran, but she "ran from the help." Even though he was proud of their efforts, he said, "We did our best… but it was a very dark room. Some don't find the light switch in time."
Regardless, Moran will still be remembered as a woman with a good heart, especially by her siblings. Tony said her kindness was too much for Hollywood to handle.
Ross, who played her mother on "Happy Days," said Moran started drinking and using drugs when their show was close to ending. They tried to give her an intervention, but the actress never admitted to using drugs. However, when Ross got the news about her co-star, she was devastated that the world had lost such a beautiful and kind person.
Erin Moran Kept Her Cancer a Secret
Moran's death shocked many of her friends and family. The actress kept her cancer diagnosis a secret because she did not want to worry them.
Tony explained that he did not know she was fatally sick and confessed that finding out about her death broke him. The 59-year-old could not believe that his incredible little sister was gone.
Moran's siblings, Tony, Sharon, Lei, Kelly, and Mike, did not know that their sister was undergoing chemo, but they knew her to be a strong woman who did not accept help easily. Even in her last days, she chose to protect her loved ones.
Tony admitted that he and his siblings were not close initially, especially after they lived independently. He explained that they all dealt with the repercussions of their traumatic childhood.
Therefore, each of them needed to deal with their own demons, so one year turned into a complete loss of communication, to the point where they did not know how to contact each other.
But even when they were separated, Tony said he prayed for his sister's well-being and hoped she would get her life back on track and he would see her happy again. However, that day never came.
The actress also left a memorable impact on her neighbors. Though one of her neighbors, David Holt, said they didn't see much of her in her last days, they remembered her as a friendly person who kept to herself. Whenever she stepped out for a walk or got her mail, she always waved and greeted.
Holt also remembered that Moran yearned to get back into acting, but she did not let her Hollywood background affect her character; she remained down-to-earth and treated everyone she knew with kindness.
The neighbor also spoke about the time he recognized her as Joanie from "Happy Days." Holt revealed that her spirit was low when she spoke about it, but she clearly missed being on the show. Moran told her neighbor about her cast mates and how connected they were. She even hoped for a reunion in the future.
Someone who knew about Moran's cancer was her co-star Williams. She said she had been in contact with the actress and her husband and was certain that she would overcome the disease.
–

When she heard about Moran's passing, she was completely shocked since she thought the treatment she was receiving was helping her.
Even though Moran could not speak, Williams said they exchanged several positive texts. Fleishmann also mentioned that his wife would be on the phone all day texting her friends and family. Despite her condition, Moran still looked happy, which her husband admired.
On the heels of his wife's death, Fleishmann felt compelled to write a letter about her because he wanted to clarify the reason behind her death, which was cancer, dispelling the false information that had been circulating.
He also wanted to give her fans the closure they longed for. Fleischmann ended his message and said, "We will see what tomorrow brings. PEACE, my friends."
It has been six years since Moran died, and the same impact that "Happy Days" had on her was just as significant to her co-workers, who will always remember her as the happy and high-spirited person she was.